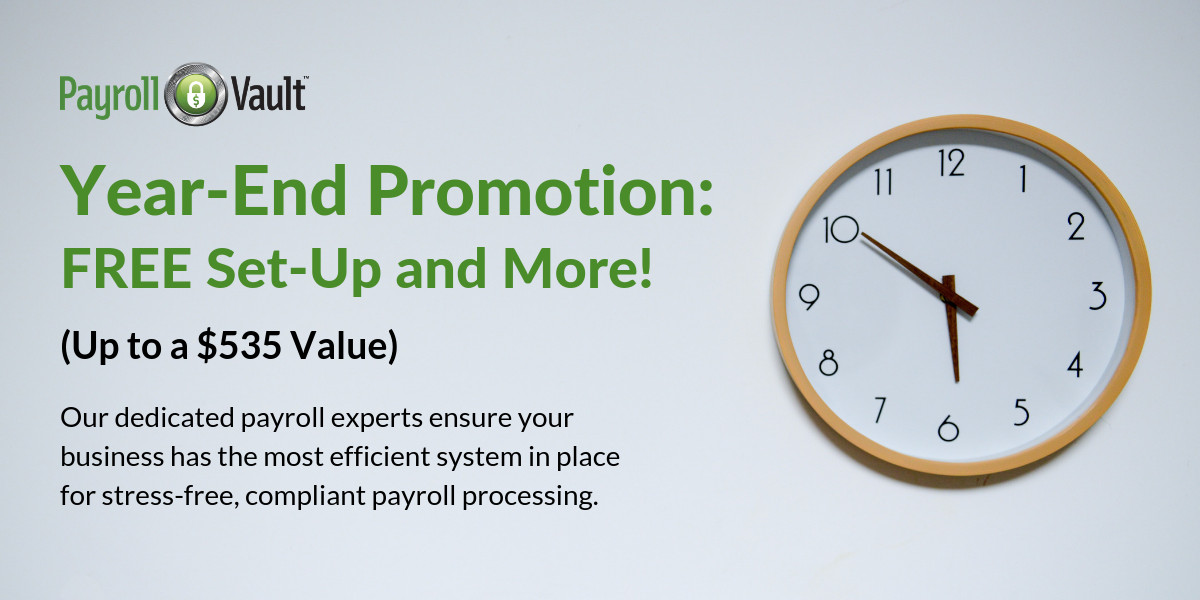 Request your FREE Payroll Setup + First Month FREE with our HR Support Center by filling out the form below. Our team will contact you shortly to set up a meeting! 
About Payroll Vault:
Our client dedicated, experienced payroll specialists help you stay informed about updates to tax deductions, year-end documentation, and compliance standards so you can focus on managing and building your business.
As a Payroll Vault Client, you will work closely with our dedicated payroll experts to ensure your business has the most efficient system in place for stress-free, compliant payroll processing.
Our seasoned experts serve as your "internal" payroll department - fully handling the complex, compliance-driven payroll tasks that take your focus away from running your business.
Our Services:
Payroll Services

HR Services

Time & Attendance

Background Checks

Worker's Compensation

Labor Law Poster Services
Don't Miss Out on Our Promotion:
No set up fee- We will waive the normal set up fee so that your business can get started easily and quickly with timely and accurate payroll services. Up to a $250 Value.

HR Support Center- The first month is Free! We will provide your first month's free access to the HR Support Center. Get started on your employee handbook, policies, job descriptions, workforce training, hiring support, discipline templates, and more. Easy access and no cost to you! Value $25

Labor Law Poster- We will provide your first labor law poster free to you. Start out meeting compliance standards. Value $60.
Payroll Package 10% Discount for One Year. We will discount our standard payroll package price by 10% for the first full year, resulting in savings on every payroll cycle. Value up to $200.
Questions? Concerns?
Contact Payroll Vault – South Central Indiana at 812-362-5464 from Monday to Friday 9:00 am to 5:00 pm. Or via email at debra.schill@payrollvault.com.